MORE HEALTHY HAIR, LESS HAIR SHEDDING
Filtering your shower water with Jolie

is clinically-proven to reduce hair shedding.
TRY JOLIE RISK-FREE
150,000+ CUSTOMERS
60 DAY MONEY-BACK GUARANTEE
NOW CLINICALLY-PROVEN
Lemma Labs, a Female-led hair specialty lab, conducted a 4-month study to measure the impact of Jolie on hair shedding. Here are the results:

81% saw less hair shedding

Improves hair shedding by 46%
vs. showering without Jolie
60% found hair more
manageable and longer.
FREE RETURNS
THE JOLIE FILTERED SHOWERHEAD
SUBSCRIBE & SAVE:
INCLUDES: 1 JOLIE, 1 FREE FILTER,
AND FILTER SUBSCRIPTION
Remove chlorine, heavy metals & other contaminants from your shower water to reduce hair shedding, improve your skin, and boost your overall health.
Color: Brushed Steel
FREE SHIPPING & 60 DAY RETURNS
Filters delivered to your doorstep every 90 days for $33 (less than 40 cents a day).
We designed our filtration to be best-in-class. Using a proprietary blend of KDF-55 and Calcium Sulfite, our filter:
Far exceeds NSF-177 certifications
Has been tested via multiple third-party labs
Does not clog nor reduce pressure
Includes the most KDF-55 vs. any other existing shower filter
Jolie will give you your best skin & hair guaranteed. Try out Jolie and if you don't like it — though we promise you will — you can return your Jolie with full refund within 60 days.
Jolie Filtered Showerhead1 Jolie Replacement Filter (it's already in the Showerhead)1 Jolie "Tiny but Mighty" wrench (no need to dig through the junk drawer to find one)
Jolie "Cutest Tape in the World" plumbers tape (just the right amount so there is less waste)
Jolie "how to" guide... It's as easy as 1,2,31 Jolie letter from us to you — you're special and we want you to know it

And what's NOT in the box:
Plastic packing material
Packing peanuts
Extra cardboard
Air balloons

We designed our shipper box from biodegradable reclaimed cardboard and paper pulp. If you decide you don't love Jolie, the same box we shipped it to you in is the same box you ship it back to us in.Jolie will give you your best skin & hair guaranteed.
Try out Jolie and if you don't like it — though we promise you will — you can return your Jolie with full refund within 60 days.
Strong pressure: designed to optimize pressure
Sexy but sturdy: made of high-impact ABS
Soft like butter: soft to the touch faceplate
Universal fit: fits all US showers
Environmentally-minded: CA & NY compliant (1.8gpm)
Timeless design: designed with 100+ years in mind
The perfect weight: 1.56lbs
Size matters: 5.3' diameter, 5.4' long
LET'S TALK
DIRTY (WATER)
Jolie removes chlorine & heavy metals from your shower water to give you your best skin & hair. Guaranteed.
CHLORINE REMOVES MOISTURE FROM HAIR, LEADING TO:

Brittle hair, dryness, dullness, frizziness, split ends, and damaged roots, contributing to hair shedding.
Item 1 of 4
HOW JOLIE WORKS
Clinically-proven to improve hair shedding by 46% vs hair washed without a Jolie Filtered Showerhead.
TRY JOLIE RISK-FREE
JOLIE IS MADE OF TWO PARTS: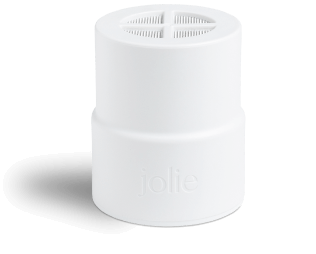 FILTER
Best in class
at removing chlorine and heavy metals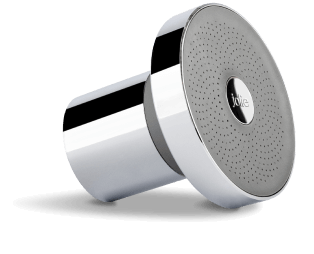 SHOWERHEAD
Designed for
strong pressure.
TRY JOLIE RISK-FREE
DESIGNED TO FIT ANY & ALL SHOWERS IN AMERICA
Installation is easy-peasy! Start reducing
hair shedding and improving hair health
in as little as 1-2-3 without a plumber.
150,000+ PEOPLE USE JOLIE FOR HEALTHY HAIR
HELPING WITH HAIR LOSS

I have been wanting to try this and finally I did after experiencing worsening eczema and dry hair/hair loss. I have thyroid issues so hair loss and dry skin is common for me. This showerhead is helping with these issues.

– HEATHER C.

SEEING NEW HAIR GROWTH!

I have had my Jolie showered for about 3 months now. This is one of the only items I've ever purchased that has actually lived up to the hype. Prior to this, I noticed random hair loss in the middle of my scalp. Since switching to Jolie, hair loss appears to have stopped and I can see where new growth is coming in where I'd lost the hair!

– ADJ

HAIR NOW FEELS THICKER

I love my Jolie! My hair was falling out in fist fulls before starting using Jolie and eliminating all the harsh minerals and chemicals from the hard Florida of water. My hair now feels thicker, and definitely softer!

– LINDA M.
Item 1 of 2
CLINICALLY-PROVEN
TO EXPERIENCE 46%
LESS HAIR SHEDDING
...VS HAIR SHOWERED WITHOUT JOLIE
TRY JOLIE RISK-FREE
60 DAY MONEY-BACK GUARANTEE